Ahn Cheol-soo, emphasizing 'scientific powerhouse', test drive autonomous vehicles... "World-class"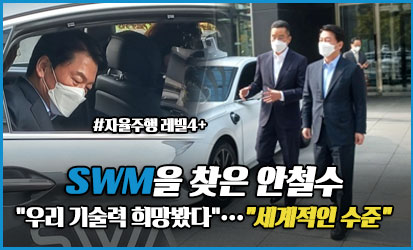 Ahn Cheol-soo, emphasizing 'scientific powerhouse', test drive autonomous vehicles..."World-class"
https://www.etoday.co.kr/news/view/2075089 
Visiting SWM to emphasize the need for autonomous vehicles...Promsie to reflect market difficulties
Ahn Cheol-soo, chairman of the People's Party, who declared his third presidential challenge and promised to make a scientific powerhouse, took a test drive of an autonomous vehicle on the 4th. Ahn said that he would make Korea one of the world's five largest economic powerhouses and praised autonomous vehicles as the beginning.
On the morning of the 4th, Ahn visited the headquarters of SWM, an autonomous driving venture company, in Anyang, Gyeonggi-do. On this day, SWM CEO Ki-hyuk Kim attended the site visit and delivered a story about the development of autonomous vehicle software technology, difficulties in the industry, and points to be improved.
Ahn, who announced his candidacy for the presidency on the 1st, promised in a declaration that he would make a science and technology powerhouse. Ahn, who visited the LG Energy Solution Magok campus immediately after the declaration of candidacy and looked at the rechargeable battery market, emphasized the importance of autonomous vehicles, which are the new growth engines of the future.
In a meeting with CEO Kim, Ahn said, "The most important keyword at this time is where Korea should go, a science and technology-oriented country." "If we only secure five fields with technology that others cannot match, we will have five companies like Samsung Electronics," he said. He added, "Isn't that what makes us one of the world's five largest economies? The potential of the autonomous vehicle market is enormous."
Ahn also pointed out problems such as manpower supply and demand for software venture companies and deregulation. He said, "If you tell us about the solutions to the difficulties that venture companies have in supplying and supplying the necessary manpower, such as the problem of regulations that are not fixed even after so many requests, various problems with R&D support and management, I will try to reflect it. ' he said. In addition, he said, "It is unfortunate that if the science and engineering market and human resources were nurtured, how much the manpower we need now can be active in the field and the Republic of Korea can develop."